Our central Manchester meeting rooms offer a venue for peaceful and productive gatherings. A meeting venue where all the rooms come with natural light and complimentary wi-fi as standard. Alongside conferences, below are some of the most popular types of meetings we regularly hold in our spaces.
Call us 0161 834 5797 or email us using the form below to let us help you with your event.
For smaller meetings try our Band C & D rooms F17, F14, F15, F16. These rooms are located on one single corridor for easy access to each room.
They hold around four to seven people in a boardroom style. Perfect for mediation or interview type meetings. Therefore, providing a close but central location for your one-to-one meetings.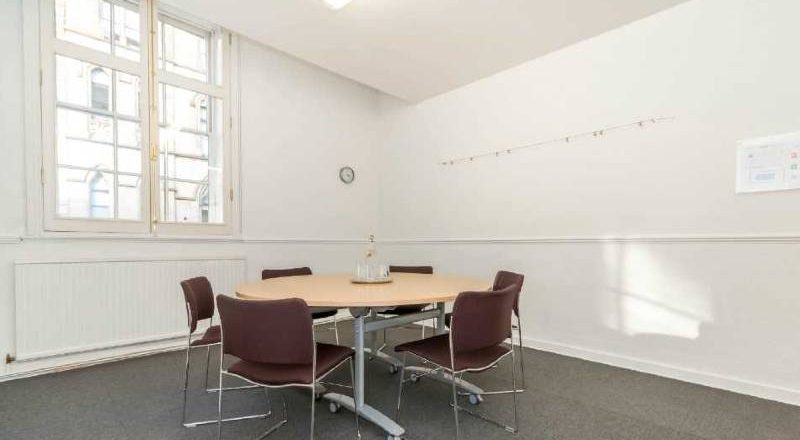 Continuing Professional Development (CPD) Meeting Rooms
Our Band A rooms (G1, F11, F12, F13) hold between 20 – 28 people cabaret style. They are all modern rooms with integrated technology. F11, F12 and F13 have dimmable lighting allowing facilitators more control of their surroundings.
With extra plug sockets on the floors as well as the walls, F13 and F12 are ideal for IT training. For smaller groups for up to 20 cabaret, try our  band B rooms G3 and G4 located on the ground floor. As with all our rooms our layouts are flexible.
Our peaceful environment gives space for delegates to contemplate. The Upper Hall and Main Hall are our largest meeting rooms. They offer clients the option for up to 300 people in our Main Hall and Balconies or 104 theatre style in the Upper Hall.
Equipment is readily available to hire. Both spaces open out on to communal areas, where refreshments and catering can be served.
For organisations who consider environmental impact and sustainability their priorities, our historical building is a Green Tourism awarded venue, therefore making it a popular city centre venue.
Specialist skills delivery training space meeting rooms
Our Upper Hall, F12 and F13 have convenient plugs sockets on the floors as well as the walls for IT and equipment. As well as integrated technology available to hire.
The retractable sound-proof wall between F12 and F13 means when hiring these two rooms, organisers have the option to have two separate rooms or extend their room into the Upper Hall allowing up to 104 theatre, 32 U-tables or 64 cabaret style.
Team-building and away day meeting rooms
The Main Hall provides a large space for up to 96 cabaret or 300 theatre style with the Balconies, with break out spaces close-by. The Upper Hall has the option to break into two rooms (F12 and F13). The soundproof screen between these rooms provides a large space to stick posters and group work on the wall.
The B band rooms (G3 and G4) located on ground floor have space for up to 20 cabaret style and provide space for smaller away days. As in all our rooms, layouts are flexible and can be changed to suit your requirements.
F11 is a popular space for an executive boardroom meeting, located on the first floor with an interesting view of iconic Central Library. Our other A band rooms (G1, F12, and F13) also provide space for professional and productive meetings for delegates between 20 – 24 boardroom.
G3 and G4 hold between 15 or 18 boardroom. Larger meetings for up to 40 can be held in the Upper Hall. We provide a well organised space to meet that is conveniently located in the city centre and won't cost the earth. All rooms offer simple but comfortable furniture and decor for all your business purposes.
Open and calming spaces which help to encourage delegates to relax and network.
Our Halls (Main Hall, Upper Hall and Main Hall and Balconies), A band (F11, F12, F13 and G1) and B band rooms (G3 and G4) all open out on to the concourse and atrium – communal spaces where we can offer a range of catering choices to treat your delegates to.
Our A band rooms hold up to 57 theatre style. Choose Friends' Meeting House for a space that encourages connection and interaction.
Let us know what type of meeting room you are looking for…
Call us 0161 834 5797 or email us using the form below to let us help you with your event.