Lunch at the Friends' Meeting House
Will your scheduled break be long enough for your delegates to go out and find their own lunch? What if they can't find somewhere suitable to eat? You can avoid these worries by ordering lunch from our great selection of cold buffets. Your food will be served at the time you choose, and your delegates will be able to chat together while they eat.
Our external catering partner is a well-established local small business. Just like us, they're committed to fresh food and good service. If you're looking for cold food options that aren't on the menu, please ask as we may be able to help.
We're now serving sharing buffets again, but if your delegates want their lunches individually wrapped then just ask and we can quote you a price for lunch packs (please note that not all buffet options may be suitable for individual packing).
All our catering prices are shown including VAT so that you can work out exactly what your costs will be – VAT will be clearly identified on your invoice so you can account for it.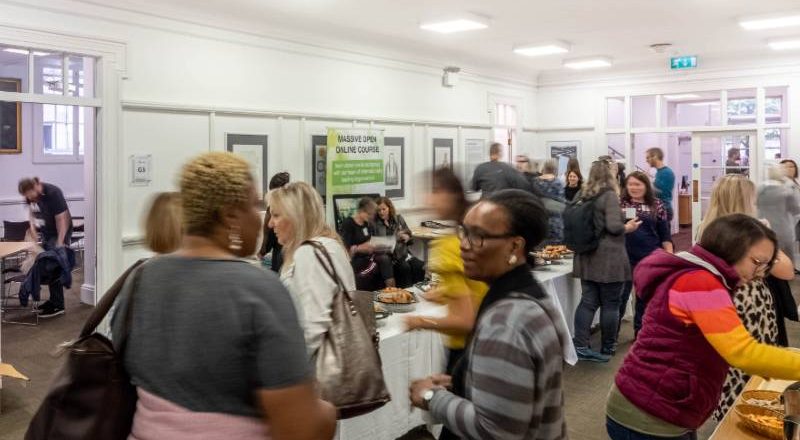 Please let us know at the time of ordering whether you want vegetarian, vegan or meat sandwich fillings – or a selection of all three.
We can provide allergen information for all our food, but please tell us in advance about any dietary requirements.
Food for special diets can be served separately & individually labelled – please let us know what you need.
| MENU | DESCRIPTION | COST (inc. VAT) per person |
| --- | --- | --- |
| Simply Sandwiches | Assorted sandwiches served on a variety of breads. 1 per person (1 sandwich is the equivalent of 4 triangles) | £5.10 |
| Sandwiches Plus | Assorted sandwiches (1 per person - equivalent of 4 triangles) served on a variety of breads plus ready salted crisps | £5.70 |
| Grab 3 Lunch | Assorted sandwiches (1 per person - equivalent of 4 triangles) served on a variety of breads with ready salted crisps & homemade cake | £7.95 |
| Savoury Platter | Assorted sandwiches (1 per person - equivalent of 4 triangles) served on a variety of breads plus a sausage roll (or vege protein alternative), a mini quiche & a piece of whole fruit. | £9.95 |
| Grab 5 Full Buffet Lunch | Assorted sandwiches (1 per person - equivalent of 4 triangles) served on a variety of breads with one carb-based filling side salad (i.e. pasta, rice or potato salad), crisps, a piece of whole fruit & a portion of homemade cake | £11.70 |
| Simply More Sandwiches with Street Food Bites | Assorted sandwiches served on a variety of breads (1½ per person - equivalent of 6 triangles), served with Indian style onion bhajis, spring rolls, samosas and curry bites & a spicy dip | £12.70 |
Breakfast Options + Fruit & Cake
| MENU | DESCRIPTION | COST (inc. VAT) per person |
| --- | --- | --- |
| Breakfast Bun | Served on white bread (1 bun per person) choose from: Bacon, Sausage or Egg | £4.50 |
| Assorted Pastries | Selection of pastries & croissants | £2.90 |
| Fruit Platter (can be ordered for breakfast or as an add-on to one of the lunch menus) | Mixed cut fruit selection | £3.30 |
| Homemade Cakes or Cup Cakes (if ordered separately from the above lunch menus) | Flavours include: Lemon and Poppy Seed, Frosted Brownie, Carrot Cake, Peanut Butter Blondie (vegan & gluten free options available) | £3.00 (Minimum Order 6 people) |
| ITEMS | COST (inc. VAT) per person |
| --- | --- |
| Fairtrade tea and coffee | £2.20 |
| Fairtrade tea and coffee with biscuits | £2.65 |
| Fairtrade tea and coffee plus orange juice | £2.65 |
| Fairtrade tea and coffee plus orange juice and biscuits | £3.00 |
| Orange juice | £1.70 |