A Simple & Safe Start to Reconnecting & Maximising Your Events
There are many reasons why you might be thinking about hybrid events: maybe some members of your group aren't ready to mix yet; perhaps you're trying to reduce the amount of travelling you have to do; or maybe it's something you'd always wanted to try but hadn't felt confident enough to give it a go.
Whatever your reasons, we know the benefits that technology can bring and we are ready to help you make the most of both the in person and online aspects of your event.
Our calm and quiet building is the perfect venue for the in person gathering and we can work with you to create an event where those joining remotely feel welcome and able to participate.
The Right Tools (& Teams) for the Job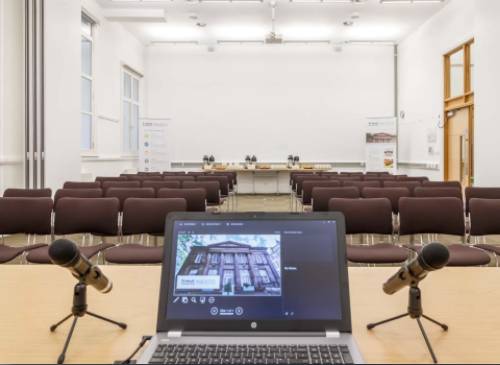 When you're new to the world of hybrid events then the jargon and options can seem a bit much. Fortunately our staff can help you work out what package of equipment you need (and what unnecessary extras you don't!) to make sure your event goes well.
Free wifi comes as standard throughout the building. In many of our rooms we can also offer a wired LAN connection with guaranteed speeds of 90Mpbs (download & upload).
If your event requires simple two-way communication with remote participants who are joining via a standard commercial platform then connecting a webcam and microphone/speaker to our projector might be all you need – you can bring your own or hire these from us.
Alternatively, if you're putting on a more complex event and need broadcast quality audio-visuals and/or more interactive online options then we can put you in touch with our event technology and production provider Remote Audio Visual who can design the experience you're looking for. We have a good working relationship that will help your event run smoothly, but we don't charge any referral fees or commission so you get the best prices possible.
Hybrid can mean:
-Higher attendance at your event
-Reduced travel costs and carbon footprint
-Increased access to speakers regardless of their location
Our team understands the benefits of hybrid but will never try to upsell or convince you of something you aren't sure of. You can discuss your wishes and concerns and we'll help you get it right.
We have sister venues in Birmingham, London and across the country and we can help you to find other regional 'hubs' if you want to combine more than one in-person gathering.
Fill in the form below to start planning your next hybrid event.
Let's start talking about your event....