Friends' Meeting House meets standards to hold quality COVID-secure events from Visit Britain – We're Good To Go scheme and AIM Business Secure Accreditation.
Following an audit of the company's internal operations and precautionary measures the local and national events venue announced  accreditation from two different schemes. It announced We're Good to Go industry standard certification from Visit England, and the AIM Business Secure Accreditation.
Visit Britain explained how the accreditation "provides a 'ring of confidence' for businesses, attractions and destinations as well as reassurance to local residents and visitors that clear processes are in place and that as a business you are good to go."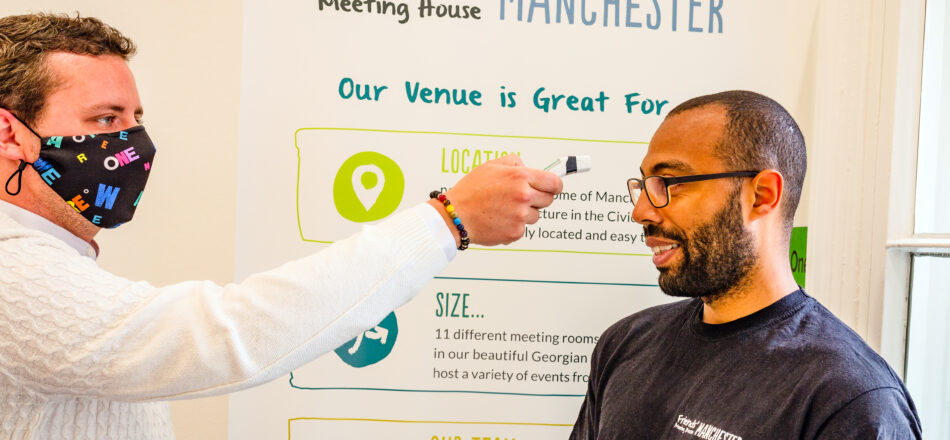 Clients and delegates can enjoy safe and secure events
The great value for Friends' Meeting House clients means they can organise events safe in the knowledge that all precautions are being taken to ensure venue safety. Clients do not have to worry about ensuring physical distancing. Friends' Meeting House has already changed capacities to ensure physical distancing within each room is standard. Meaning delegates event more space to spread out in comfort.
New cleaning measures are included in the venue's robust cleaning schedule to tackle hotspots. Alongside deep cleaning in between events. Innovations such as the one-way system have been tested and developed to make it as easy as possible for visitors to use and as safe as possible.

Being committed to pleasing clients and delegates, Friends' Meeting House staff have tested their new covid-secure measures for user satisfaction. Peter Carroll from Thinking Actors shared his thoughts on the new procedures as, "fantastic – staff knew the protocol, we really appreciate what you've done! It felt safe & secure – it was great."
Friends Meeting House clients can rest assured that when they are ready to book meetings and occasions they have a safe and welcoming venue, ready for their events and committed to minimising risk.