Our procedures have been accredited by...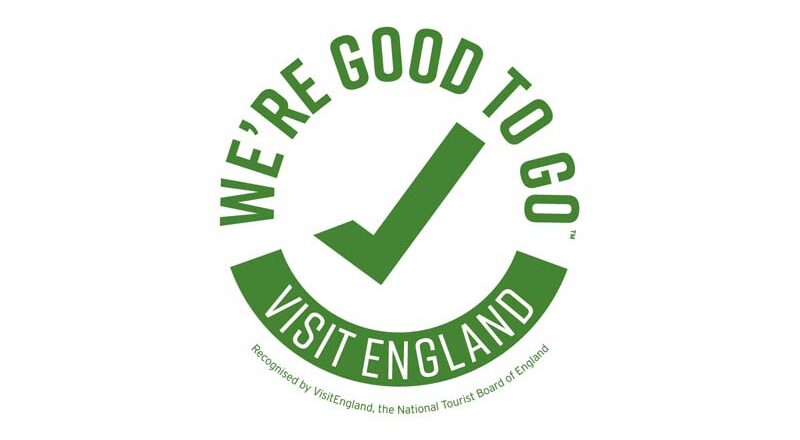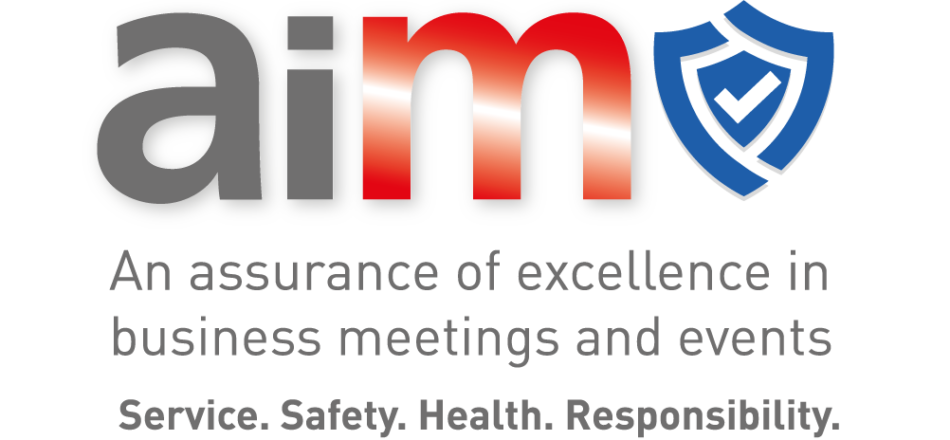 Like always, we are taking safety at our event seriously. After careful consideration of government regulations and AIM Covid secure guidelines, we have implemented some measures to promote the health and wellbeing of attendees and staff.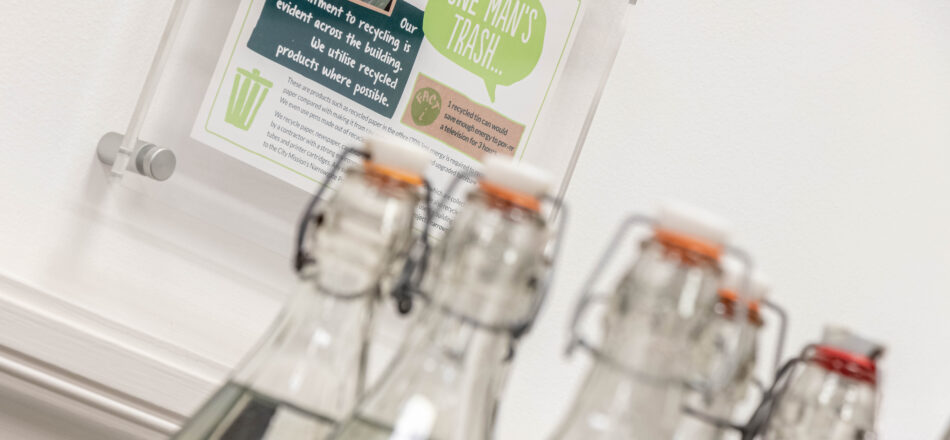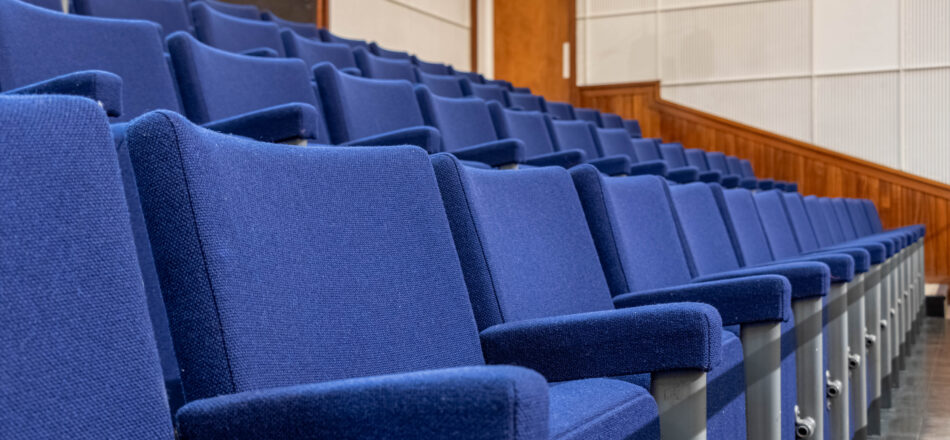 We continue to make our venue safer with the following measures
Implemented a one-way system throughout the building.
Making use of our new sanitising points around the building by encouraging all staff and visitors to wash and sanitise their hands regularly during their visit
Encouraging the use of track and trace applications and procedures
Discouraging anybody waiting in the communal areas of the building.
Our Staff Procedures In More Depth
Please see below for more in-depth look at our procedures, for specific guidance taken from our risk assessment.
Staff understand procedures must be followed with utmost care to help prevent the spread of disease to colleagues, room users and themselves.
These precautions are based on government advice: https://www.gov.uk/government/publications/covid-19-decontamination-in-non-healthcare-settings/covid-19-decontamination-in-non-healthcare-settings
Cleaning before the use of a room
Hoover/sweep the floor. If it is a room with hard floor it should also be mopped.
Set up the room as required according to the new social distancing layouts.
Check the distancing measurements between the chairs. It should be between 150cm – 200cm with the aim of 200cm where possible.
Wipe all surfaces – spray all surfaces first and leave for 30 seconds then wipe with blue roll/tissue/paper towels not cloths.
Set up the required equipment and make sure that it is working OK. Wipe with alcohol wipes. Then using the normal disinfectant (spray onto tissue first then wipe) wipe the sockets, switches, handles and locks.
Check the hand sanitizers are full and working properly. They may have been switched off, to switch them on there is a switch to the side.
Cleaning after the use of a room
Remove all equipment and wipe it clean with alcohol wipes before putting it away.
Wipe all surfaces as above.
Hoover/sweep floor
Reset the room for the next group and follow the above procedure.
Our staff will follow these steps to help provide a safe environment for everyone take precautions to prevent the spread of COVID.
General Cleaning of Rooms
Clear any leftover Materials
Wipe tables using spray and cloth
Empty and reline bins
Vacuum carpets
Vacuum seating
Sweep and mop hard floors
Clean Windowsills, dado rail, trunking, windows, glass and metal panels on doors
Polish balcony ledges and rails
Sweep and mop balconies and steps
General Cleaning of toilets
Clean Sinks, taps and panelling below sinks
Clean mirrors
Clean hand dryers and wall / tiles below
Clean toilets and urinals
Refill soap and paper towel dispensers, wipe clean
Sweep and mop floor
General Cleaning of communal area
Empty and reline bins – including recycling bins
Polish / wipe staircase handrail
Sweep and mop staircase
Wipe dado rails
Vacuum all carpeting
Clean skirting boards
Polish picture frames
Clean glass in concourse – doors and on main staircase
High Touch Hot Spot points identified:
Front door handle, Panel and surrounding area.
Push to open button.
Office door handle, panel and surrounding area.
Banister leading up to the first floor.
Lift buttons (all floors and including outside the lift).
Lift doors.
Cleaning stations that are open to multiple users.
All door handles.
Sinks and taps.
All toilet flushers.
All toilet doors (including toilet locks, and the main door and handle).
All soap dispensers.
All paper towel dispensers.
All cupboard handles (storage spaces).
The Central street fire exit push bar.
The central street staircase railing.
Hospitality trollies.
Rail outside men's toilets on first floor.
Cleaning list:
To clean hotspot areas with suitable spray and cloth, blue tissue or paper towels
Spray surfaces to be cleaned, then wipe
Electrical sockets and light switches: spray on to cloth first, then wipe
Toilet areas: use blue tissue or paper towels
Re-usable cloths to be put in laundry after use
Once notified staff will try to deal direct with the individual by
Using a face covering.
Approaching the person who seems to be showing symptoms – staff will stay 2 metres away and will remain friendly.
Asking the person to wait in a separate area for 10 minutes.
Temperature will be taken
Listening to the person's explanation, if staff do not suspect it is COVID-19 related symptoms then no further action will be taken.
Following up with the person after 10 minutes. If the staff member still has concerns then the staff member will need to follow this up with the below procedure.
If our staff need to see the group facilitator, our staff members will…
As always will approach the group facilitator politely
Ask to speak to the facilitator privately (not in front of the whole group)
Explain our concerns in factual terms
Will enquire into if the facilitator has relevant information that reduces our concerns. If so then the matter can be closed
If staff remain concerned that the person is still showing symptoms then we will explain to them and the facilitator the person showing symptoms must leave the venue.
We will ask for track and trace details.
Staff
Staff should follow good practice and protect themselves as normal whilst cleaning. PPE can be worn for cleaning by staff who are concerned for their own protection, but generally PPE is essential only when dealing with the consequences of a confirmed outbreak.
Staff who are not cleaning are not routinely required to wear face coverings, except for the Receptionist (see below). However if staff need to approach a room user then they should put on a face covering first – if they are hearing impaired or have other additional communication needs then they may need to remove it again but establish this first
Receptionist: the Receptionist is the member of staff in most immediate contact with customers. H/she should wear a visor whilst meeting & greeting at the front desk.
Remember that wearing of non-medical grade PPE is not a substitute for social distancing and good hygiene practices
Customers
All customers should wear face coverings whilst walking around the building unless exempt from wearing them.
We recommend that face coverings are worn during the event itself unless the activity cannot be done whilst wearing a face covering.
TAKE A LOOK AT OUR ROOMS...