WELCOME TO SALE MEETING HOUSE
Friends' Meeting House, Park Road, Sale, Cheshire, M33 6WX
WE LOOK FORWARD TO YOUR VISIT....
We look forward to you using our Sale Meeting House. Below is some important information about using the venue.
Please familiarise yourself with the below information before using the venue:
In the event of a fire, the front door is the only exit from the building
Fire extinguishers are located in the entrance hall, downstairs kitchen, upstairs landing and upstairs kitchen
The Fire Notice is on the wall by the front door. Ensure you have an evacuation plan. If the alarm sounds leave at once
A First Aid Kit is kept on the bookshelves at the back of the Entrance Hall with an Accident Book
For our evacuation procedures please see out Evacuation Information Page: https://meetinghousemanchester.co.uk/evacuation-information/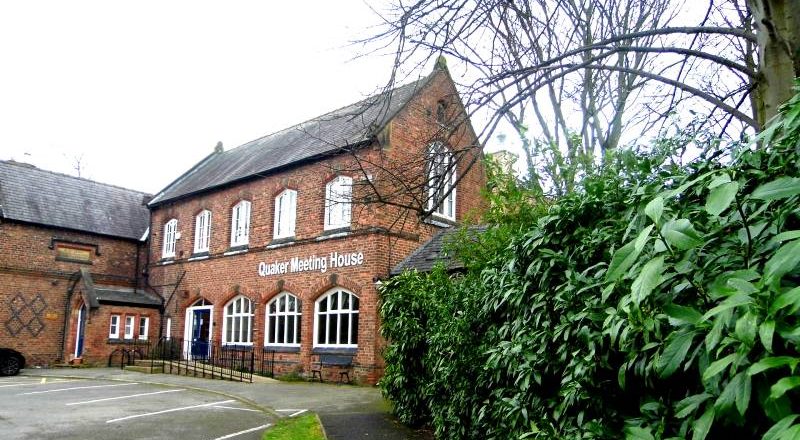 To ensure we can continue hiring out the Meeting House to local groups we ask the following:
The heating is programmed to set times
No smoking/vaping/alcohol in the building
If you rent a storage cupboard, store any food stuffs e.g. biscuits, in sealed containers
Recycle where possible. No bin bags in the blue bin (recycling)
Leave the Meeting House as you find it.
We would be grateful if you would set up the downstairs Meeting Room according to the plan kept in the room
Please use only PAT tested electrical equipment
No bicycles in the building
Parking:
There is limited parking in front of the Meeting House. Please do not park in the tenants' space or on the grass.
Please do not block the driveway with cars so that the tenants can always access their home
WIFI ACCESS AND EQUIPMENT
Wi-Fi password: salemh2016
Extra pop-up tables and a whiteboard with paper are stored in a cupboard in the entrance hall.
When you are ready to leave the building please ensure that:
All the windows are closed
All the taps are turned off
All the plugs are turned off at the wall except where indicated
All the lights are turned off
Lock both locks to the front door. It is the same key for both
If you have used the key safe, return the key for the next user
The caretaker is part-time and will turn their mobile phone off when not at work. If you have a problem leave a message on our Manchester office number: 0161 834 5797. You can also email office@meetinghousemanchester.co.uk Your message will be picked up when the office is next open (usually 8.30am weekdays).
If you have had a problem we would like to know, please leave a message on the above number or send an email.
If you smell gas ring 0800 111 999 (24hour service)
If you see something suspicious ring Police 999 or ring 101 for non-emergency calls
Jo Wright
Telephone: 07392 199 562
Email: salecaretaker@manchesterquakers.org.uk