Sale Quaker Meeting House, Park Road, Sale, Cheshire, M33 6WX
If you are looking for a self-contained meeting space outside Manchester city centre then our Small Meeting Houses could be a good fit. Dotted around the suburbs and outskirts of Manchester, in Eccles, Sale, South Manchester and Warrington, these Meeting Houses are unstaffed venues. They are ideal for groups looking to independently facilitate their own day. You can bring your own food and non-alcoholic drinks, as well as any PAT-tested equipment you may need.
Quaker Meeting Room
The ground floor Quaker Meeting Room is wheelchair accessible. This bright room has a serene atmosphere and large arched windows. The view looks out on to the grounds. This calming exterior view is reflected in the room's neutral décor.
As a result this space offers a peaceful retreat-like meeting venue. It is an ideal space for contemplative groups needing to find a corner to escape modern life.
The meeting room is amply sized for a small group with chairs for up to 30. There is a well-equipped refurbished kitchen and ground floor toilets.
All in all, the Quaker Meeting Room is ideal for informal lecture series, drama groups, health groups, discussion groups, religious gatherings or community events.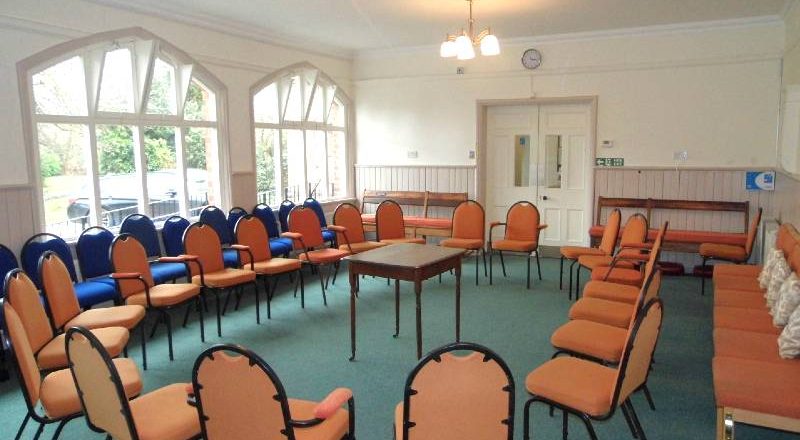 Main Meeting Room space for up to 30 people (6 people social distancing)
Pat Lee Room (upstairs) space for up to 20 people (6 people social distancing)
A small car park
Wheelchair access to the Quaker Meeting Room
In-built loop system in the Quaker Meeting Space
Wi-Fi is available and free to use.
Groups are able to use the outdoor space, although please note that may also be used by our neighbours or other room users.
Full day sessions are from 9am-5pm.
Half day sessions are from 9am-12.30pm or 1.30 – 5pm.
Evening sessions are from 6pm-9pm.
| Prices From April 2021 - March 2022 | Full Day | Half Day | Evening |
| --- | --- | --- | --- |
| Quaker Meeting Room | £85.00 | £60.00 | £45.00 |
| Pat Lee Room | £75.00 | £50.00 | £35.00 |
| Whole Building | £155.00 | £100.00 | £85.00 |
Alternative Meeting Houses